Samsung's upcoming Galaxy S series smartphone the Galaxy S21 is said to release in Q1 2021. After the launch of the Galaxy Note 20 series, the rumors and leaks of the Galaxy S21 series have started and the main focus will be in the camera department.
There is still nearly half a year left to make it debut in the market. Now according to the leaker, the Samsung Galaxy S21 Ultra released early next year will use a 100-megapixel five-camera combination.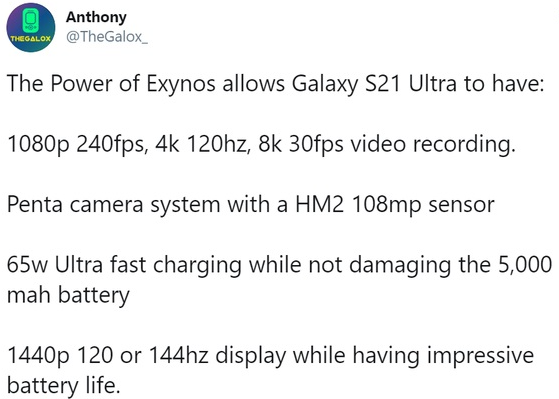 According to the expert @Anthony, the new Galaxy S21 Ultra will use a 2K+ OLED display that supports a 120Hz/144Hz refresh rate; a rear 100 million pixel five-camera, supports OIS optical image stabilization, and at the same time it also supports 8K 30fps video shooting.
Join Our Samsung Channel On Telegram


Also, the Galaxy S21 series is said to pack with a 5000mAh super-capacity battery, and for the first time, it is equipped with a 65W ultra-fast flash charge.
The new Samsung Galaxy S21 series will still include the Galaxy S21, Galaxy S21 + and Galaxy S21 Ultra, and will be launched with the new Snapdragon 875 and Samsung Exynos 1000 (Exynos 2100) mobile platforms. Both chips use the same 5nm process and will use the "1+3+4" eight-core design, of which "1" is the super-large core Cortex X1, which has a peak performance of 23% higher than that of the Cortex A78. In addition, the machine will also introduce the iconic accessory of the Note series-the S Pen stylus.  If it goes well the company will be announcing the Galaxy S21 series with S Pen for the very first time.
Follow NNS on Google News, Facebook, Telegram, and Twitter so that you will never miss the latest updates.